Custom-designed for narrow aisles in racked pallet storage equippemnts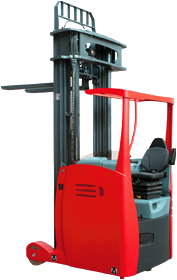 The Reach Trucks were invented nearly half a century ago and evolved as the warehousing industry investigated ways to increase storage density. These trucks strongly differ from conventional, counterbalanced forklifts because they are custom-designed to work in narrow aisles/NA in racked pallet storage. Basic Reach Truck features outriggers in front and telescoping forks that use a hydraulic Reach FW/Reach BKW mechanism that allows the driver to pick up the load and retract it over the outriggers. This reduces the overall truck and load length, allowing you to turn in a narrower aisle. The use of Reach Trucks would literally transform warehousing operations as more racked storage could be placed within the same amount of space. The high working speeds and powerful batteries allow Reach Trucks to ensure high efficiency and throughput in handling palletized loads over medium and long travel distances (above 70m) and medium to high shelf levels (up to 12m).
VRT is a modern solution for intensive handling of palletized loads in racked pallet storage with narrow aisles (from 2,8m – according to VDI when picking Euro pallets along forks) and lifting heights up to 9,0m. Operator compartment is fully integrated within the truck body for optimum protection, providing excellent ergonomics and clear, unobstructed view of load and surroundings at all times.
The mast is fixed to the chassis in what would be the reached-back position on a conventional truck. All side shift, reach FW/BKW and tilt motions are controlled with the fork carriage, Reach travel is therefore shorter an quicker – thus gaining faster storage/retrieval cycles and lower energy consumption. The fixed rigid mast and the fork carriage with extremely short reach travel have added significantly to truck stability – leading to its residual capacity high values.
All the VRT trucks are fitted with modern AC drives – powerful and maintenance-free traction, lift and steering motors – providing high speeds (travel up to 14km/h and lifting up to 0,7m/s), powerful acceleration and low-noise level. Additionally a CAN BUS-architecture is applied for the complete electronics – featuring less wiring, better reliability, easy and fast diagnostics.
Comfort and safety equipment:
Comfortable seat – adjustable for seat position, height and body weight. Safety belt as standard;
Effortless electric-powered progressive steering, 180° as standard;
High quality Display of important information – travel direction and wheel position indication, battery discharge display, hour-meter, travel speed, lifting height, alarms.
Choice of optional equipment.